Fresh From Birth makes apparel. Momentum Crew choreographs & dances hip hop. Put them together and you get a custom longboard? F*** YA! We sure do love us some side projects!!
It feels like forever ago now, but during Prelude Carolinas, Jim & Leegan, friends from Momentum Crew came to me with the concept to do a custom longboard. They'd seen the work I'd done on the Fresh From Birth skateboard, and wanted something cool to ride in-and-around campus.
We caught up over email a few weeks later and started talking about what the board would look like. Both Jim and Leegan wanted something classy, simple, & clean. We all agreed that the design would feature the classic Demon Deacon design we'd created for Momentum Crew.
I guess some members heard about it, and were excited to see the final product. Brian, a friend we've known for a while decided to hop on-board and get a board too. So in the end, Fresh From Birth made three custom longboards for Jim, Leegan, and Brian. During finals week, we decided to get together to hand-off the boards and catch-up. Jim and Brian drove out to meet me half-way between Charlotte & Winston-Salem, NC. We got up at a Subway in Statesville. I couldn't just hand-over the boards. I wanted to hang-out…oh, and do a small shoot haha.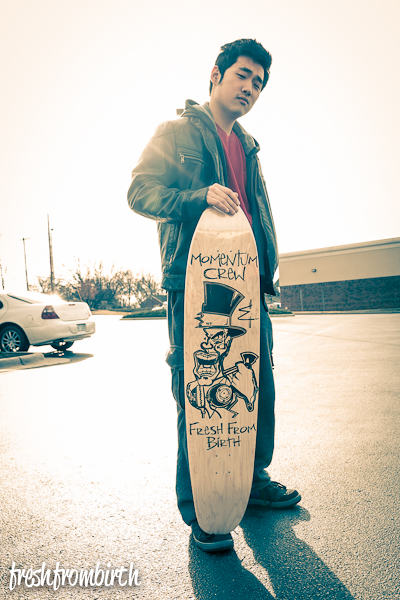 [blockquote]
"Yo, these boards look so legit!!" – Brian Kim
[/blockquote]
Fresh From Birth has a strong relationship with the members of Momentum Crew and love working with them. With all the ideas we've come up with recently, I can certainly see us doing some big things in the near future. Cheers to the new year!!